We are software manufacturer from the beautiful
Black Forest and with us everything revolves around projects, tasks and productivity. With our eponymous product "smenso" we offer a project & work management platform for projects and tasks across the enterprise.
Our cloud-based software simplifies collaboration across the team and keeps everyone on the same page, across projects, organization and across the enterprise – especially when everyone is distributed and working in different locations.
smenso is led by Marco De Tullio and Philipp Riermeier. Both have been in the software business for many years and have a great passion for software.
"Challenging the status quo is not an easy task. Software for Project and Work Management is often counterintuitive and only something for professionals. In the current, fast-paced digital world, there is a need for better solutions that bring everyone along. We therefore place a lot of emphasis on intuitive operation, very fast deployment and high availability – for everyone in the team who wants to work together on projects and be productive immediately."
Marco De Tullio & Philipp Riermeier
Management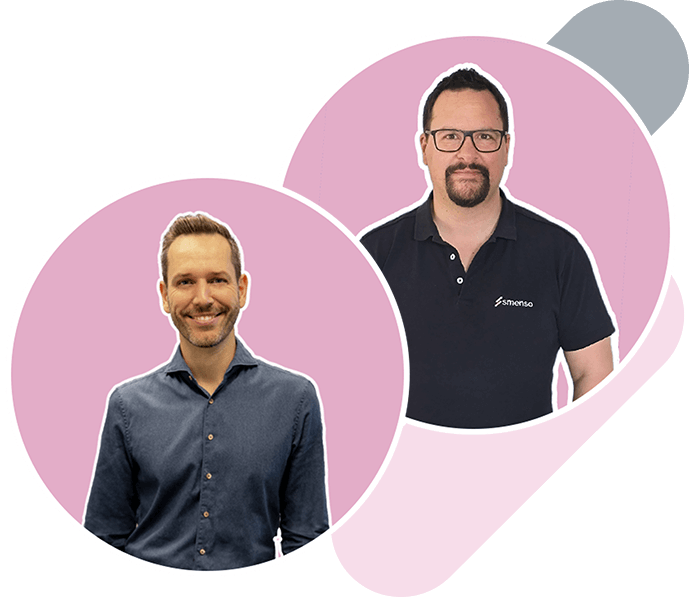 Create the digital future of our customers with us.
Although we have been active for almost 10 years, we live and think like a startup: with a lot of self-determination, flat hierarchies, variety and the will to develop the best project and work management solution for our customers.
You work with the best hardware from where you prefer to work. New Work is not just a buzzword with us – we give everyone the freedom to choose where and when they are most productive. We're not about physical presence, we're about curiosity, fostering big and small ideas, and being together, whether virtually or in person.
We are never satisfied with the status quo and are constantly looking for improvements. That's the only way our project platform became what it is today – easy-to-use software that's fun to use and stands up to complex requirements. And above all, developed and supported with enthusiasm in our team .
But what really makes the job at smenso
is you!
Ready? Create your workspace now
Test 14 days free of charge and without obligation