Was ist smenso und warum gibt es smenso? Doch bevor ich darauf eingehe, möchte ich einen kurzen Blick zurück auf unsere Unternehmensanfänge werfen. Wir machen bereits seit mehr als einem Jahrzehnt Software für das Projektmanagement. In dieser Zeit haben wir unzählige Einführungsprojekte bei den unterschiedlichsten Kunden in unterschiedlichen Branchen gemacht. In these projects, our project management software was implemented at the customer's site (i.e. on-premise) and usually heavily customized. The fact that the software was implemented in the customer's data center meant that an elaborate internal customer process was required to pick up all stakeholders from all departments. However, this approach resulted in the following challenges:
You try to pack all the customer's requirements into the tool. If already implemented, then everything purely what goes
The time until the product was implemented was often very long, so that the end users could only use the tool when everything was ready – after that, changes are often very difficult.
Partly very complex and individual requirements, which changed the "standard" strongly
Product updates on the customer's system were rather difficult because many people at the customer were involved from different areas
The Scrum method was also only partially effective, since customers usually have a fixed budget and all requirements should be included.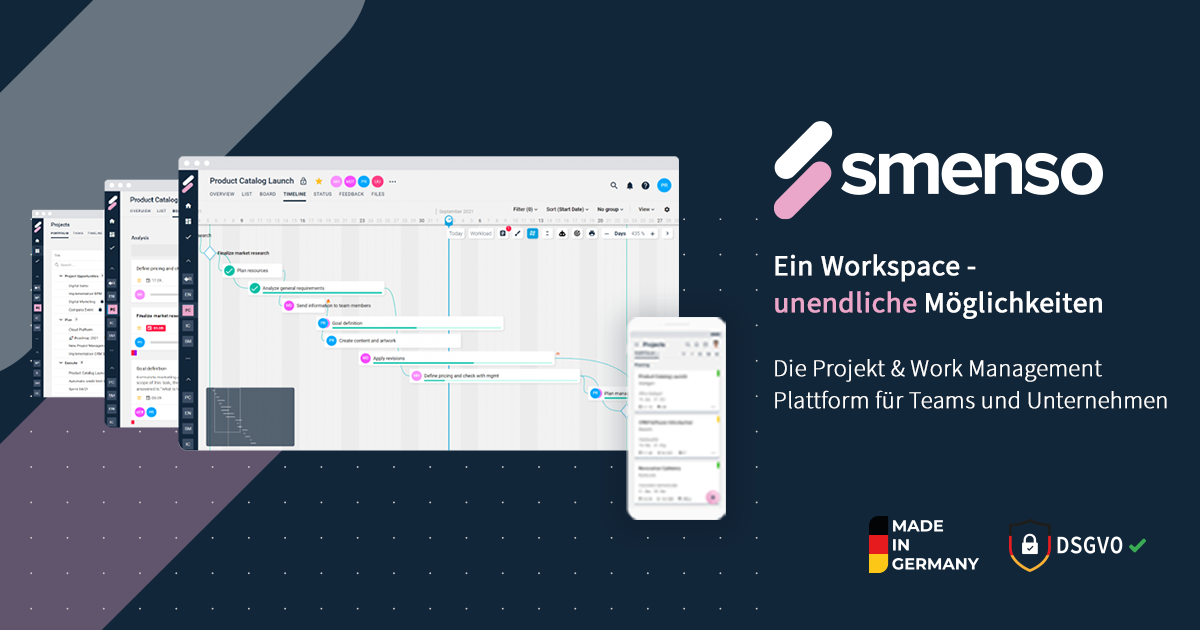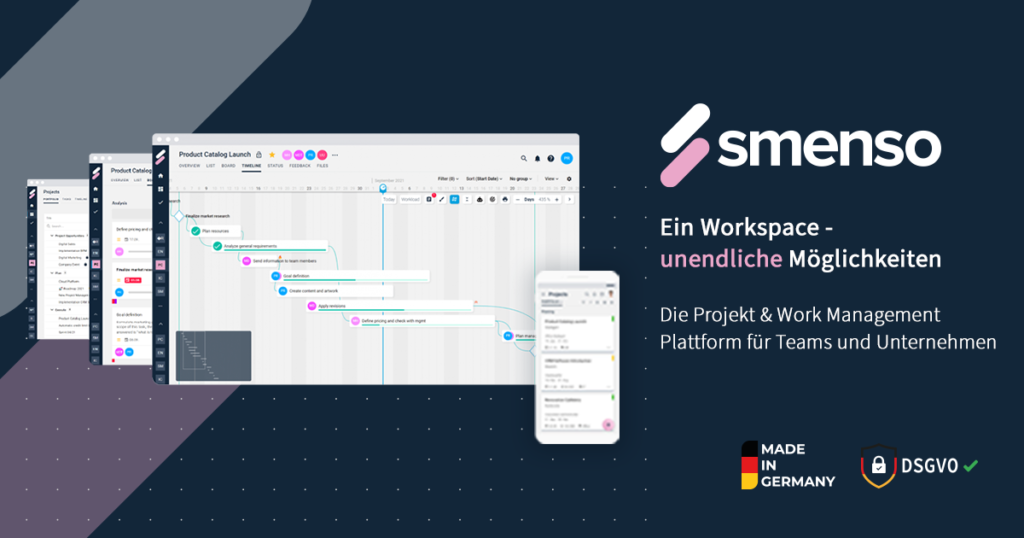 Something had to change - the birth of smenso
All the above examples have shown that project management software must be extremely flexible and yet simple, so that it can develop the greatest benefit. However, this also means that it must be possible to permanently adapt and change the requirements and prerequisites, just as many things are constantly in flux in a project.
For this reason, we decided to develop a completely new type of software. A software that is used as a standardized platform, which is immediately ready for use, but which can be configured so flexibly by the users themselves that it can grow with the requirements. A software, with which one can convert however also individual and complex topics, without having to spend a gigantic budget.
To reach that, one must be however also in the position "old braids" to cut off and on a completely different Mindset get involved. Sentences like "A good project management software should have …." do not exist for us. We think it's much more important to use smenso to achieve the project goal as easily as possible, with the result you want. And this result is not always to be achieved on the paths that have "always been there" or "have always been done that way".
The best example of this is the project hierarchy. Here, virtually every project literature recommends a widely branched hierarchy. The deeper the better. Ever seen such a complex folder hierarchy on a iPad? Well, I don't. And that doesn't mean you can't map neat structures with the iPad.
Nein, ich möchte jetzt nicht sagen, dass alles komplexe ganz einfach gelöst werden kann. Aber man sollte es zumindest versuchen. This is only one example of many. But by the way: with smenso you can map many structures, but a little differently than you might be used to 😉 How that goes I have described you in my post "How do I structure and classify my projects with smenso?".
I could name such examples without end. Once you have understood how smenso works, many requirements for which you previously had no solution, or only Excel, are suddenly no longer a problem.
We are a software company that develops project and work management software. Our products have our DNA and carry our philosophy. But it not only carries our DNA, but also the DNA of our customers. Because we are not just a supplier of software. We are a project management community.
Through smenso's platform approach, each of our customers transforms their requirements with smenso's capabilities. This permanently inspires smenso with ideas around projects / productivity / work and workflows and thus influences further development. Many different teams are already successfully implementing their projects with smenso.
I am impressed every time about our customers show me what they have implemented with smenso. In the process, the use cases are not restricted.
If you also want to try smenso or just want to talk to me, just contact us and see how easy smenso can also improve your projects.
Plan projects with a team all digitally, quickly and easily with one tool. Try smenso for free.